Lieutenant Ryan Graves is a former U.S. Navy fighter pilot. Graves is best known for his involvement in a series of widely publicized UAP encounters he and several other Navy F/A-18 Super Hornet pilots experienced between 2014 and 2015, during training operations with the USS Theodore Roosevelt (CVN 71) carrier strike group along the Eastern Coast of the United States.¹
Background and Military Service
Graves obtained a B.S. in Mechanical/Aerospace Engineering in 2008 from Worcester Polytechnic Institute.² In early 2009, Graves enlisted in the U.S. Navy. After attending Officer Candidate School, he was awarded his Wings of Gold along with a Top Hook award for receiving high grades.³ After serving for close to two years, he became a F/A-18 pilot operating out of Naval Air Station Oceana, Virginia Beach.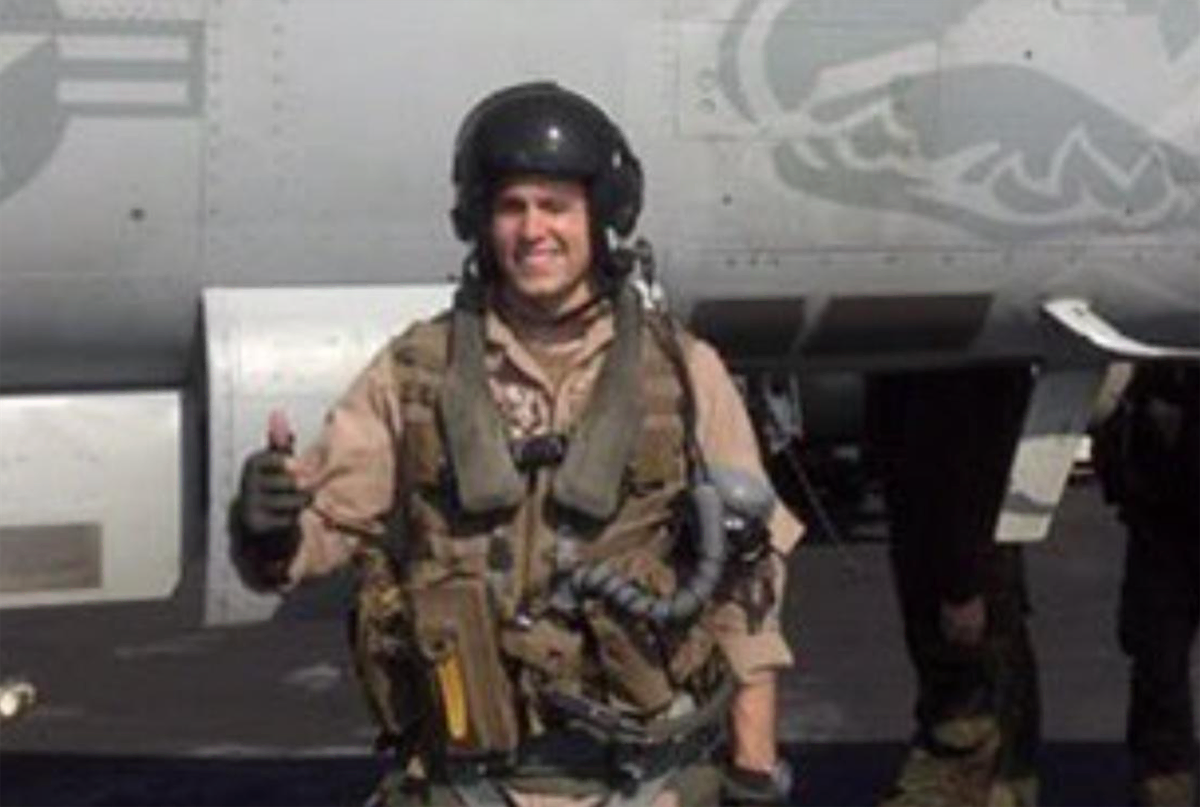 Graves served two combat deployments in support of Operation Enduring Freedom and Operation Inherent Resolve.⁴ Beginning in March 2012, his first deployment sent him to the Middle East on the 22nd and final overseas deployment of the USS Enterprise (CVN 65), the first nuclear-powered aircraft carrier and the longest Naval warship ever constructed.⁵ In 2015, Graves served his second and final deployment aboard the USS Theodore Roosevelt (CVN 71) in Iraq and Syria.⁶ During his time as a Navy fighter pilot, Graves received advanced qualifications training that included Combat Lead, Head Landing Signals Officer, and Forward Air Controller (Airborne) duties, as well as specialized training that qualified him for leading combat search and rescue missions as Rescue Mission Commander.⁷
Following his deployments, Graves served at Naval Air Station Meridian, Mississippi, as an advanced strike fighter instructor flying the T-45C Goshawk for approximately three years. In total, Graves logged more than 2000 hours mostly piloting fighter aircraft during his time in service.⁸ He left the Navy in June 2019.⁹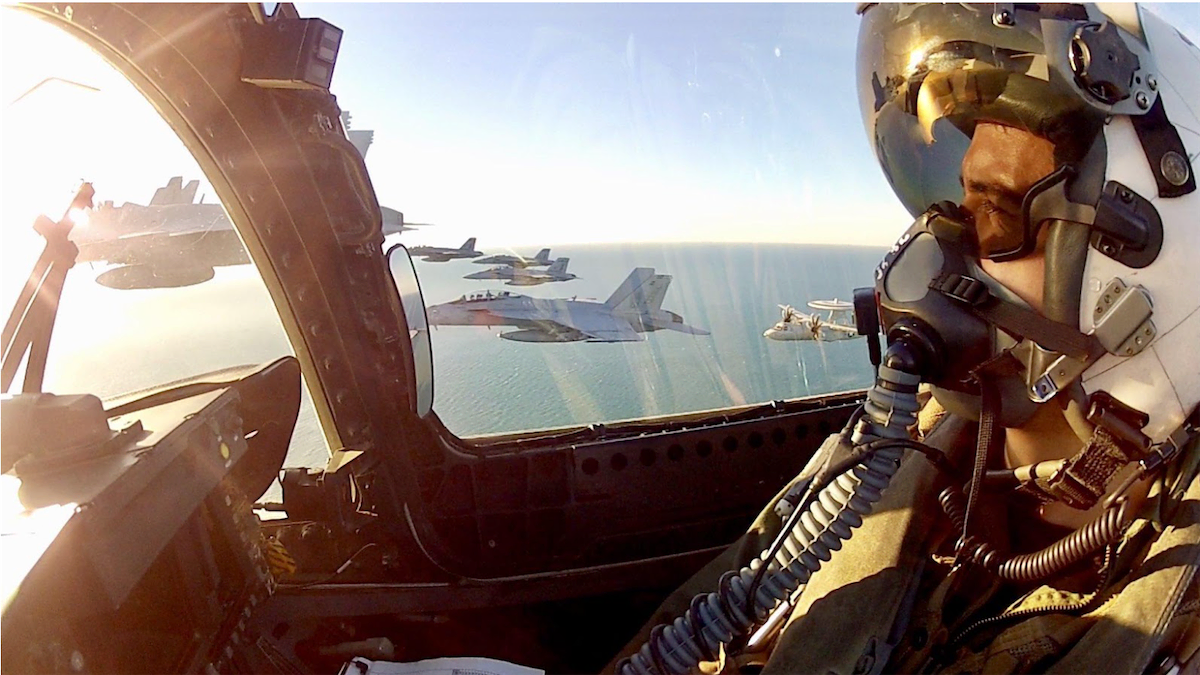 The New York Times and UAP Encounters
Graves said in December 2019 that when videos depicting what appeared to be Navy encounters with UAP were initially published by The New York Times in 2017, it caught his attention because he "was airborne when those videos [and] images were taken." Graves said that he also recognized some of the voices of Navy personnel appearing in the videos as being his former squadron mates, ultimately prompting him to come forward with his own experiences.¹⁰
In May 2019, the Times featured a follow-up to its 2017 article that extensively quoted Graves regarding the UAP encounters he and several other Navy fighter pilots with Strike Fighter Squadron 11 (VFA-11), the "Red Rippers", a United States Navy strike fighter squadron out of Naval Air Station Oceana, Virginia, claimed to have experienced. According to the Times, the UAP observed by Navy personnel "had no visible engine or infrared exhaust plumes," and purportedly were observed accelerating to hypersonic speeds and reaching altitudes of as much as 30,000 feet.¹¹
According to statements made by Graves to the Times, the UAP he and others in his squadron observed "would be out there all day," with Graves acknowledging that for even a small aircraft to remain aloft in this way "requires a significant amount of energy," and that "12 hours in the air is 11 hours longer than we'd expect."¹²
"At first, it was just one of these damn things we'd see all the time," Graves told interviewer Kevin Rose in late 2019. "We didn't want to put a label on it."¹³ Graves said that for a time he and members of his squadron thought the UAPs might be part of a classified drone program. However, this changed after one of the pilots reported a near midair collision with an object he described as resembling "a sphere encasing a cube." Following this incident, the squadron's views about the objects shifted "from a potentially classified drone program to a safety issue," with Graves and others concerned that it "was going to be a matter of time before someone had a midair [collision]."¹⁴
Unidentified and 60 Minutes
In 2019, Graves appeared in an episode in the first season of History's Unidentified: Inside America's UFO Investigation, in which he spoke on camera with former U.S. Army Counterintelligence Special Agent Luis Elizondo. Graves remarked that there are primarily two issues involving the U.S. government's attitudes toward UAP. "One, people aren't paying attention," Graves said. "And two, there's a credibility problem and a stigma related to this. By observing hard facts and data from professionals, and from our sensor systems, we can bring this to light in such a way that you can't just refute by saying I don't believe it."¹⁵
In May 2021, Graves appeared in a 60 Minutes segment devoted Navy pilot encounters with UAP. Speaking on camera with interviewer Bill Whitaker, Graves said that while he could not identify the objects depicted in the three Navy videos published in The New York Times in 2017, he and other pilots have speculated that the UAP they encountered could be either a secret technology in development by the U.S., a surveillance vehicle belonging to a U.S. adversary, or "something otherworldly." Graves also surmised that "the highest probability is it's a threat observation program."¹⁶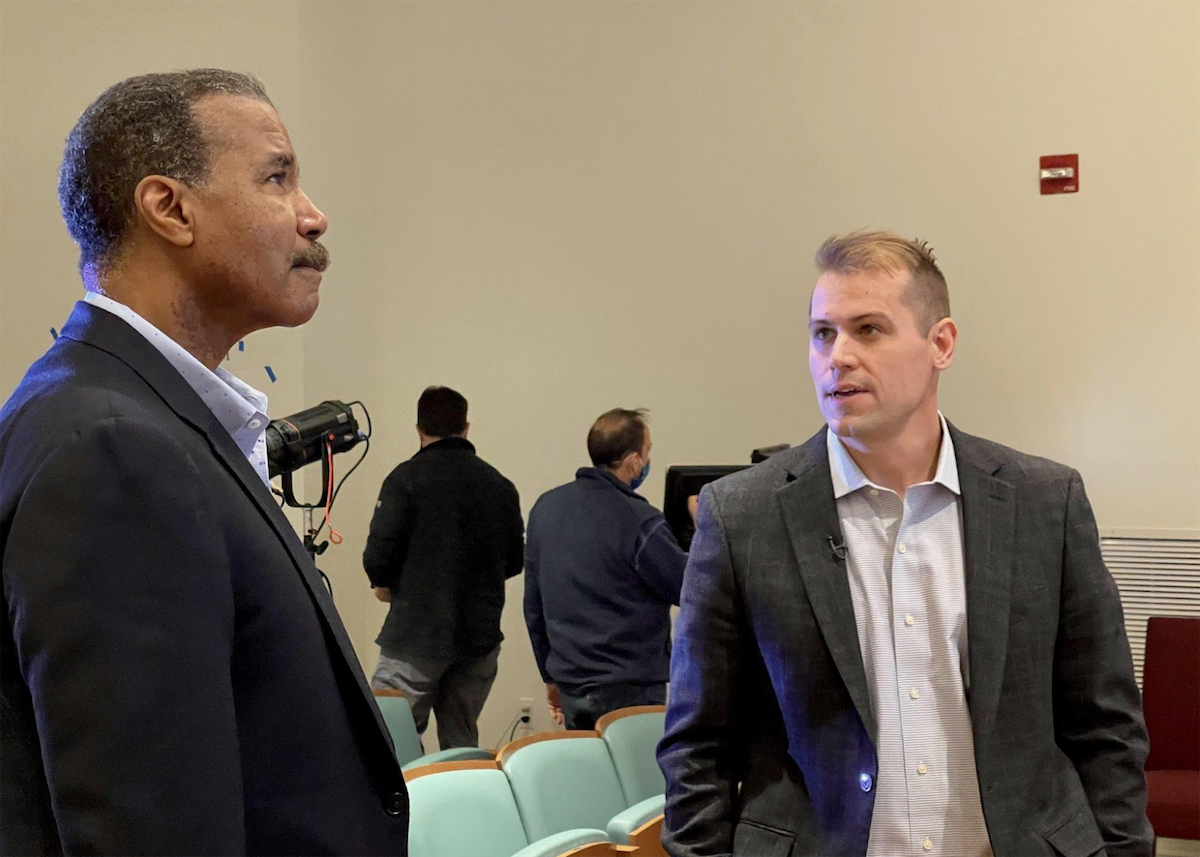 Graves expressed his ongoing concern during the 60 Minutes segment, noting that "if these were tactical jets from another country that were hangin' out up there, it would be a massive issue. But because it looks slightly different, we're not willing to actually look at the problem in the face. We're happy to just ignore the fact that these are out there, watching us every day."¹⁷
Civilian Life and Post-Military Career
After leaving military service, Graves worked at BAE System's FAST Labs as a Technology Development Manager and Tech Scout between June 2019 and August 2021. While there, he was involved in research and development programs for the Defense Advanced Research Projects Agency (DARPA) that involved artificial intelligence and machine learning (AI/ML) assisted air-to-air combat systems like DARPA's Air Combat Evolution (ACE) Technical Area 1 (TA-1). Other agencies Graves worked with during his tenure at BAE include the Office of Naval Research and Air Force Research Labs.¹⁸
Since August 2021, Graves has held the position of Quantum Technology Program Manager at Quantum Generative Materials (GenMat), a company that employs quantum technologies in the effort toward creating breakthrough materials and other technologies. Applications for such technologies include prospective efforts toward global decarbonization.¹⁹
In February 2022, Graves was elected as Chair of the American Institute of Aeronautics and Astronautics (AIAA) Unidentified Aerial Phenomena Community of Interest (UAP COI), along with Vice-Chair Dr. Ravi Kopparapu of NASA's Goddard Space Flight Center.²⁰ Graves said that the charter for the Community of Interest would be to "improve aviation safety by enhancing scientific knowledge, and mitigating barriers to, the study of Unidentified Aerial Phenomena." Graves also said that "a panel of industry, government, and academics" would convene at the AIAA's 2022 gathering to discuss the mission of the organization's UAP COI, with a focus "to improve aviation safety and advance scientific knowledge."²¹
Graves currently resides with his family in Boston, Massachusetts.
References
2. Graves, Ryan. "Ryan Graves - Chair - AIAA UAP Community of Interest | Linkedin." LinkedIn. https://www.linkedin.com/in/whygraves. (citations will hereafter simply reference "Graves, LinkedIn").
11. New York Times, 26 May 2019.
14. New York Times, 26 May 2019.
20. Graves, Ryan [@uncertainvector]. "Just wanted to share how honored I am to have been elected to Chair